CELLFOOD SAM-e (pronounced sammy) brings a major breakthrough in nutritional chemistry: a liquid SAM-e formula combining S-Adenosyl-Methionine with the nutrients and unparalleled delivery system of Cellfood. The result is a unique nutritional supplement providing benefits for multiple needs.
CELLFOOD SAM-e is the only liquid SAM-e in the world — formulated in a stabilised form that may provide as much as a 95% absorption rate, as compared to tablet and powder forms with much lower absorption rates. Thus, the daily dosage 72 mg of SAM-e provided in this formula — along with Cellfood as the optimum delivery system — may give this formula an effectiveness equivalent to dosages of up to 400 mg per day.
If you require smaller dosages, there's no need to break tablets in order to receive the perfect dosage. Simply take fewer drops as desired.
SUPPORTS MOOD AND WELLBEING
Are you experiencing: sadness, anxiety, mood swings, lack of energy, and/or loss of motivation? Decades of multiple human studies have shown that L-Methionine is as effective as regular anti-depressants for mood boost, minus all the negative side effects. Cellfood SAM-e accomplishes that by regulating mood-influencing chemicals like serotonin and dopamine.
Environmental toxins can increase oxidative stress in the body, and Cellfood SAM-e can help restore one of the most crucial antioxidants in the body, known as Glutathione.
SAM-e supports sulphate groups' absorption into glycoproteins, which help maintain cartilage and protect joints. Cysteine and glutathione are byproducts of this absorption process and have potent health-optimising properties.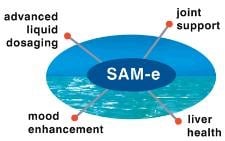 SUGGESTED INSTRUCTIONS FOR USE:
Cellfood SAM-e comes in a 30ml bottle that provides a 30-day supply when taken as directed.
Shake the bottle before use. Take ten (10) drops directly in the mouth, under the tongue, two (2) times per day. Wait a few seconds before swallowing.
No refrigeration is required.
Caution: Individuals diagnosed with a bipolar disorder or serotonin syndrome should consult with their professional health care practitioner prior to using any SAM-e product.